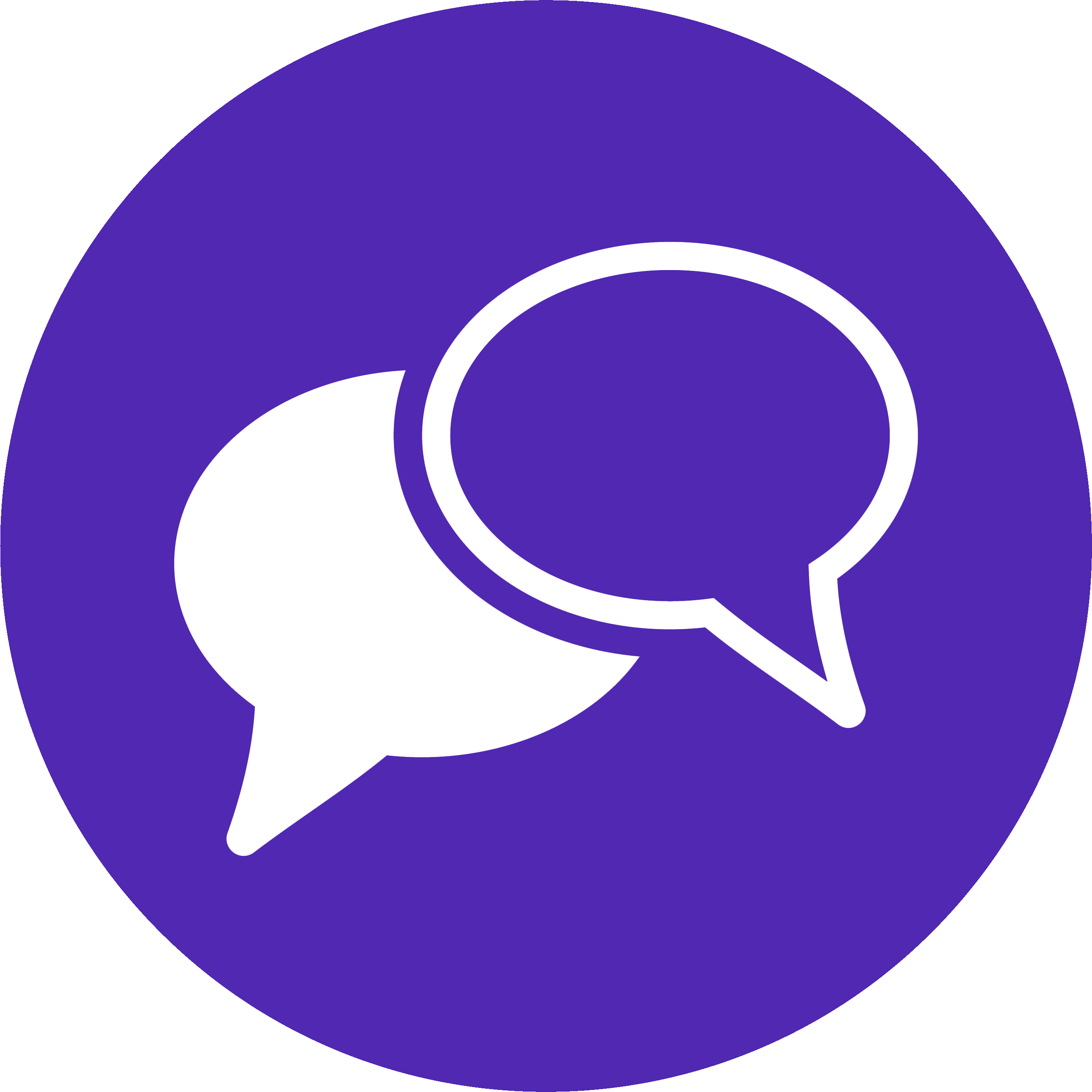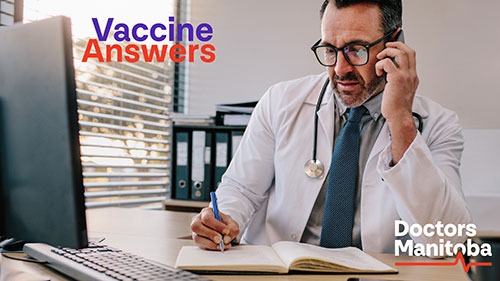 In addition to our vaccine info page, we're also posting answers below to your vaccine questions below.
If your question isn't answered yet, you can submit a general (non-personal) question about the COVID-19 vaccines. We'll work to post more answers here soon.

Please note, we cannot respond to personal medical questions or provide personal medical advice. If you have a specific question or need personal medical advice, contact your doctor.
When can I get the vaccine from a doctor?
Doctors' offices will begin offering the vaccine in mid-March. Initially, supplies will be very limited and the provincial government is requiring these doses be used with those most at risk. This includes patients between 50 and 64 years of age with a serious medical issue that increases their risk to a severe outcome if they get infected with COVID-19.
This includes serious conditions such as advanced or severe diseases involving the lungs, kidneys, liver or heart, as well as some cancers, Down syndrome, or severe obesity. You can view the full list of conditions considered "high risk" for severe outcomes from a COVID-19 infection in the next question below.
You can register on our site, and we'll let you know when you become eligible and where you can get the vaccine.
Am I eligible for the vaccine if I have a medical condition?
Some serious medical conditions can increase your risk for hospitalization or death if you become infected with COVID-19. If you have one of these conditions, you could be eligible for the vaccine earlier.
The high-risk medical conditions include advanced or severe diseases involving the lungs, kidneys, liver or heart, as well as some cancers, Down's syndrome, or severe obesity. The complete list can be found below, and was created by a group of medical advisors to the government, based on serious cases of COVID-19 in Manitoba as well as national and international data.

Individuals in certain age groups with these conditions could become eligible earlier for the vaccine to give them protection against COVID-19 sooner.
You can check if you're included using our Eligibility Checker, and sign up to be notified when more vaccine is available. If you're eligible, you might be able to get the vaccine from a physician.
The full list of conditions includes two priority groups.
Priority 1 High-Risk Medical Conditions
Receiving dialysis due to kidney failure
Severe liver conditions including cirrhosis or portal hypertension
Severe heart conditions, including heart failure (class III or IV), adult congenital heart disease (stage C or D), or requiring a ventricular assist device
Serious lung conditions, including severe COPD, pulmonary hypertension, pulmonary fibrosis, Cyctic Fibrosis
History of stroke (cerebral vascular accident) with lasting or ongoing impacts
Blood cancers (e.g. leukemia), lymphoma or clonal blood disorder
Other cancers while receiving chemotherapy or other treatments that weaken the immune system
Severe obesity (BMI of 40 or higher)
Down Syndrome
Organ or stem cell transplant (waiting or received)
A spleen that doesn't function properly (asplenia or hyposplenism including sickle cell disease)
Receiving one of these immunosuppressive therapies: B cell therapies (e.g., rituximab, ocrelizumab), cyclophosphamide, alemtuzumab, calcineurin inhibitors, chronic dose prednisone >=20mg/day, mycophenolate, sulfasalazine and JAK inhibitors (e.g., tofacitinib)
Receiving home care four or more times per week OR receiving 24/7 support from Community Living Disability Services
Higher risk pregnancy due to age (35 years or older), obese (BMI 30 or higher), pre-existing diabetes, pre-existing hypertension, cardiac or pulmonary disease
Priority 2 High-Risk Medical Conditions
Moderate heart diseases, including less severe heart failure (class I or II), coronary artery disease, malignant tachyarrythmia or cardriomyopathies
Chronic liver disease
Neurologic or neurodevelopmental conditions, including

Cerebral Palsy,

Parkinson's,

Multiple Sclerosis,

ALS, or

Dementia (including Alzheimer's disease)

Chronic lung conditions including COPD or severe/uncontrolled asthma
Chronic renal (kidney) disease
HIV, even if it is well-controlled (CD4 cell count of 200 or higher x 106L and CD4 percentage of 15% or higher)
Severe autoimmune disorders, such as lupus, scleroderma, myocaritis, rhematoid arthritis)
Diabetes that is poorly controlled or has complications (both type I or II)
Tuberculosis (active or latent)
Receiving an immunosuppressing therapy
Receiving home care or any level of Community Living Disability Service supports (or an equivalent support from family as determined by a physician)
Household contacts of individuals with priority 1 conditions
Designated support persons for PCH residents
Talk to your doctor to learn more and to assess your risk. You can also review the full list of conditions defined by the provincial government's medical advisors.
Do younger or healthy people need the vaccine?
Yes, even younger adults and healthy people should get the vaccine. There are three key reasons why you should still get the vaccine, even if you don't feel at risk from COVID-19:
Protect yourself:

It's not worth taking a chance with COVID when there's a safe and effective way to prevent it. While COVID-19 can be more serious for the elderly, Indigenous Peoples, or those with underlying health conditions, younger and otherwise healthy people have had serious outcomes too.

Protect those you love:

Even if you don't see the personal benefit, think about your family and friends, or others you come in contact with. Getting the vaccine helps to protect them too.

Ending the pandemic:

We need 70-80% of Manitobans to get the vaccine if we want to get back to a more normal way of life. This makes it harder for COVID-19 to spread, and less likely for more dangerous mutations to happen. You can help by getting immunized.
Research is  still underway to confirm the safety and efficacy of the vaccine for children and youth.
Learn more about the risks of COVID-19 here:
Johns Hopkins University: Younger Adults Are at Risk, Too
Data reveal deadliness of COVID-19, even in young adults (Centre for Infectious Disease Research and Policy)
Who should and should not get a COVID-19 vaccine?
Almost all adults should get the COVID vaccine. It's safe, effective and doctors recommend it for almost everyone, including those who have recovered from COVID-19 in the past.
There are very few people who should not get immunized. These include:
Children and youth.

The vaccines are not yet approved for younger people, though research is underway to confirm vaccine safety and efficacy for this age group.



People with severe allergies to vaccine ingredients. 

You can view the ingredient list for the

approved vaccines

. Severe allergies to these ingredients are very rare.

Food allergies or other allergies are NOT a reason to avoid the vaccine.

If you are concerned, talk to your doctor.
Some people may need to wait or should seek medical advice before getting immunized. This includes people who:
Have COVID-19 symptoms or those who are isolating

due to a potential exposure. Wait until public health clears you before getting the vaccine.

Had a different vaccine recently

. It's best to wait two weeks after getting a different vaccine.

Have had severe allergies to other vaccines or injectable medications

in the past, or

have had an anaphylactic reaction in the past but do not know the cause

. Talk to your doctor first.

Are pregnant or breastfeeding.

You can get the vaccine, but you should consult a doctor first.

Have suppressed immune systems

or are undergoing treatments that   can weaken your immune system, like chemotherapy. You may be able to get the vaccine, but you should consult a doctor first.
Like any medication, surgery or other treatment, vaccines also have risks of side effects. The good news is for those who have side effects, they are almost always mild and go away quickly. For almost everyone, the risk of getting COVID is much higher — like thousands of times higher — than the risk of a serious reaction from the vaccine, and the vaccine offers the benefit of preventing serious infections. Your doctor can assess your medical situation and advise you about the vaccine.
If you have questions about whether the vaccine is right for you, talk to a doctor.
What are the side effects?
Like any medicine, COVID-19 can sometimes cause mild side effects. Serious side effects are extremely rare. 
Common side effects are generally mild and might include tenderness, redness, or swelling at the injection site, headache, low fever, or you may feel unwell. These are more common after the second dose than the first. If you experience symptoms like this, they won't last long and they are much milder than what COVID-19 can cause. 
Side effects occur because the vaccine triggers your immune system to start fighting. If they last longer than a week, or you get a high fever, contact your doctor or seek medical attention. 
In very rare cases, a serious allergic reaction, known as anaphylaxis, could occur. This is why you are asked to stay for about 15 minutes after your immunization, to ensure medical help is available if you have a rare reaction.
If you're concerned about side effects or allergies, talk to your doctor. You can also review the following resources:
Is the AstraZeneca vaccine effective for seniors?
Yes, it is effective, but it's not yet an option for seniors in Manitoba.
The recommendations in Canada for AstraZeneca were updated to include adults of all ages. The Manitoba government is expected to change their guidelines to include seniors when more vaccine shipments arrive in the province.
Initially, Canadian recommendations suggested targeting the vaccine to adults under the age of 65. This was because the original clinical trial for AstraZeneca did not include a lot of older adults, so there wasn't as much data as some scientists want to understand how effective this particular vaccine is among seniors. More studies have emerged, however, finding the vaccine to be effective in adults of all ages. This resulted in the update to the Canadian guidelines
Some countries, like the UK and Australia, were already using the AstraZeneca vaccine on adults of all ages, including seniors, and they have found it be very effective.
This vaccine is safe for all adults, including seniors.
Learn more here:
New Data Show Vaccines Reduce Severe COVID-19 in Older Adults (UK Government)
Canadian Recommendations on the use of COVID-19 Vaccines (NACI)
If you have a general vaccine question that hasn't been answered yet on our site, you can submit it below. We will work to post more answers on this site soon. Please note: this is not for personal medical questions.